Die iranische Homosexuellenorganisation IRQO berichtet folgende Barbarei aus dem Leben zweier junger Schwuler: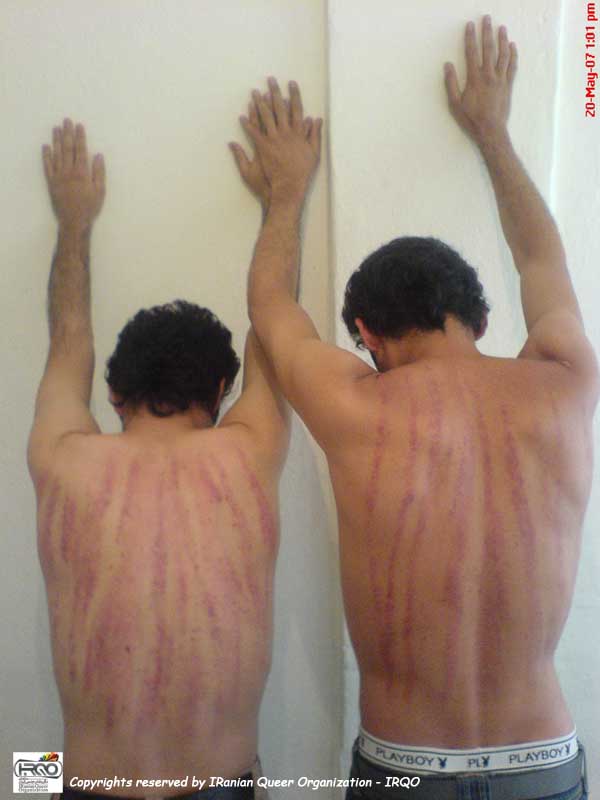 Diese beiden Männer wurden nach Angaben der IRQO im Mai ausgepeitscht, weil sie eine Party für ihre schwulen Freunde gegeben haben.
Farsad is 26 years old and Farnam is 24, (their names have been changed to protect their identities). Their lives, like many, if not all the other Lesbians and Gays in Iran, is miserable. Farsad lost his father at fifteen and his mother re-married a revolutionary guard member (a military organism developed by the Iranian regime), which itself is a bitter story. "since childhood I could not find any attraction to the opposite sex; yes of course I am a homosexual." Farsad says.
At 21, in order to meet other people like himself, he set up a successful weblog. The secret police found his address through his IP and arrested him. He spent three weeks in solitary confinement, and then he was accused of obscenity, advocating decadent values and homosexuality. They sentenced him to six month in prison. After completing his sentence he suffered from depression and phobia about revealing his identity and going back to prison, with symptoms so debilitating he was hospitalized. Then his diary was found by his stepfather, who demanded Farsad denounce his homosexuality.
When Farsad resisted, his step-father took him to Qom (a holy city in Iran, and a center of Ayatollahs) to be seen by the grand ayatollahs; He spent a few nights in custody, was humiliated by the security forces there. They threatened him with stoning unless he denounced his homosexuality.
Traumatized by the threats, he was then taken to see a grand ayatollah, where he signed his confession and forgiveness plea. He was then returned to Tehran, where he received 95 lashes before being released. Almost as an afterthought, he was questioned by the supreme leader's office in the university where he was studying — and was expelled from school, as well.
Last winter, he met Farnam in a gay chat room. After corresponding they moved in together to start life as a couple, in disguise but together. They invited a small group of their friends to celebrate this union. Just fifteen minutes after the party began, the police broke into their house and arrested everyone. They were brutally beaten, says Farsad, and then transported to a police detention center. They spent the entire Persian new year holidays in a prison cell. "We were beaten to the point that my spine hurt permanently; I still feel the pain caused by the fists pounding my face", Farsad says.
They were accused of advocating decadency, homosexuality and prostitution. Because they were arrested together, the authorities insisted on more details about their relationship. During the police interrogation, they were asked, "Did you have sexual intercourse with each other?" They did not admit to this question, and eventually they were sentenced for having an improper relationship, for which they received 80 lashes. All other guests were released conditionally and they were ordered to remain in the city and not get in-touch with each other.
Two weeks before the execution of their sentence, the party attendees were arrested again and were sentenced to 60 lashes each, which all received in the same day. Farsad and Farnam were told that 80 lashes was just for holding the party, and that their sentence for the improper relationship would be executed later.